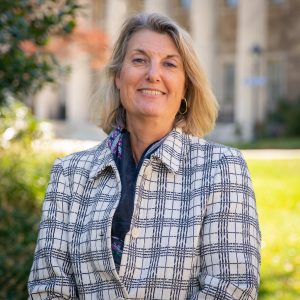 Kristine Kappeler Howanski
Kristine is the founding partner of the firm, and her practice is dedicated to family law matters.
Kristine is a graduate of Dulaney High School (1976), graduated with High Distinction from the University of Virginia (1980 – BA Government, Phi Beta Kappa) where she lettered in Swimming, and the University of Maryland School of Law (1983), where she served on Law Review and received the Order of the Coif. During law school, Kristine did an Asper fellowship with the Honorable Norman Ramsey. Upon graduation from law school, Kristine served as an associate, then senior associate and partner at Semmes, Bowen & Semmes until forming her own family law boutique in 1999.
Kristine enjoys spending time with her family, serving at church, trying out restaurants, attending shows and watching and participating in various athletic endeavors, including running, swimming and cycling with Athletes Serving Athletes. Aside from supporting the Ravens, Orioles and Cavaliers, she enjoys playing golf, swimming, cycling, running, working out at the gym, walking on the beach and spending time with her husband, their two sons, two daughters-in-law, and grandchildren, as well as extended family and friends.
Court of Appeals of Maryland, 1983
Fourth Circuit United States Court of Appeal, 1997
Supreme Court of the United States of America, 2003
J.D., University of Maryland School of Law, Order of the Coif
B.A., University of Virginia, with High Distinction, Phi Beta Kappa
Dulaney High School
Recipient of the J. Earle Plumhoff Professionalism Award – Baltimore County Bar Association 2010
Recipient of the Tommy Donahue Memorial Award – Athletes Serving Athletes 2013
Maryland's Top 100 Women – Daily Record – 2017
Member and Interim Chair, Baltimore County Ethics Commission – (1991-1995)
Member and Chair, Baltimore County Board of Appeals – 1995-1998
Baltimore County Bar Association

Family Law Committee, Chair (2004-13)
Fee Arbitration Committee, Member, Vice and Chair (2001-3)
Bench Bar Committee, Member, Vice and Chair (2003-2007)

Member, Board of Trustees, Vice President, President-Elect and President of Towson Golf & Country Club – 2003-2012
Member, Eucharistic Minister and contributor for Our Daily Bread at St. Pius X – 1981-2015
Member, Eucharistic Minister and contributor for Our Daily Bread at the Church of the Immaculate Conception – 2016 to present.
Member, Master Serjeant and Buck Serjeant for Serjeants Inn Law Club – 1999-present
Trustee Associate for Student Affairs for Notre Dame of Baltimore University – 1994-present
Member, Maryland Bar Foundation – 2012 to present
Maryland State Bar Association

Family and Juvenile Lawyers Section Council -2007- Chair and Immediate Past Chair in 2018
Editor of Family Law News – 2010 to 2016

Major and Lt. Col. Maryland Defense Force – 2006-2016
Member, Board of Trustees, Athletes Serving Athletes
Attorney General v. Waldron – The Maryland Judiciary's Expansive Power to Regulate the Bar Under the Separation of Powers Article; Intermediate Scrutiny Under Maryland's New Equal Protection Clause, 41 Md. L. Rev. 418 (1982) (article chosen by faculty as best Law Review Article that year)
National Business Institute publications pertaining to Impact of Bankruptcy on Divorce, Spousal Support, Tax Issues In Divorce and Marital Property, Office Management, MICPEL, Family Law News and Maryland Bar Journal Publications Pertaining to Family Law, including Best Practices for Best Interest Attorneys (May/June 2009) and Collaborative Lawyering in Family Law Cases: A Paradigm Shift for Addressing Family Conflict? (Apr 2016)